Best Prices on CPC Courses in the North East
DCPC FOR LGV BEST PRICES IN THE NORTH EAST
Drivers who still haven't completed their CPC are now struggling to find full 5 days courses.
Please Note : Price now £80.00 per day on all courses (Weekday and Saturday)
Previously..... (Pre August 2019)

Price Watch In Other Parts Of The U.K. (FOR FULL 35 HOURS BLOCK BOOKING)
Transed Training in Stoke are charging £391.75 for full 5 Days (April / May 2015 courses)
Skills Training Centre in London are charging £426.00 (inc vat) for full 5 Days (April / May 2015 courses)
Novadata in Essex are charging £390.00 (inc vat) for full 5 Days (April / May 2015 courses)
Needham Logistics Training in Suffolk are charging £450.00 (inc vat) for full 5 Days (April / May 2015 courses)
Westway in West London are charging £315.00 (inc vat) for full 5 Days (March 2015 courses)
The Training Service in Burnley and Leeds are charging £255.00 (inc vat) for full 5 Days (March 2015 courses)
Braim's Transport Services of Milton Keynes charging £75.00 plus Vat per day (but with no 5 Day courses available now)
Lighthouse Safety in Rainham in Kent are charging:
£300 plus VAT (£360 Total cost) for the full five day block
£65 plus VAT (£78 Total cost) for single day
A lot of confusion seems to be surrounding what is required for Driver CPC. In short we have chosen the 5 modules we feel are the most relevant to most drivers. Each module is 7 hours long. Therefore any driver who has completed 5 modules x 7 hours = 35 hours total required will gain their full CPC.
A driver who completes a 5 day Monday to Friday course would complete what is necessary to gain full Driver CPC.
OUR PRICE PER DAY = £80.00 (inc. Vat)
1 day £80.00
2 days £160.00
3 days £240.00
4 days £320.00
5 days £400.00
This includes everything you will need for your Driver CPC
* DSA uploads * Certificate(s) * And D.Q.C. Driver Qualification Card
Price is the same for both weekday and Saturday courses !
* Beware some training companies do not include upload fee - our price is the total of what you will pay - other websites may not be cheaper when you factor in these 'hidden costs' !
Our drivers on the September course received their Driver Qualification cards the week after they came on the course (from the 23rd - 27th) . We always ask drivers who are completing their 35 hours periodic training to let us know when their DQC's arrive in the post (to them direct from the DVLA). And tieing in with previous courses the average turnaround was once again 4-5 working days.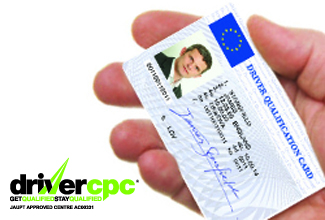 Because we upload hours straight away (either that night or next working day) the turnaround to get your DQC is very efficient when you book through us (a benefit over some other training companies where long delays have been known).

We can take your booking over the phone. Or you can complete the 3 Step process yourself online.
The process takes 10 - 12 minutes. We can take your enrolment form details from your photocard part of your drivers license.
Ring Gary or Judith on 0191 5561004 or call Gary on 07544 467347.
PLEASE NOTE: THE PRICES STATED HERE ARE FOR INDIVIDUALS - COMPANIES WITH MULTIPLE DRIVERS CAN SECURE MASSIVE DISCOUNTS !!! CONTACT US WITH DETAILS OF HOW MANY DRIVERS NEED CPC AT YOUR COMPANY or ORGANISATION TODAY TO SECURE BEST DEAL THROUGH US !
We understand that it may not be possible for an individual or a company to give up a full week to do this training and as such will be running regular courses.
So, for example a driver could do one module per week for 5 weeks and so on.

For details and dates of specific course dates please see our 'Courses' section.