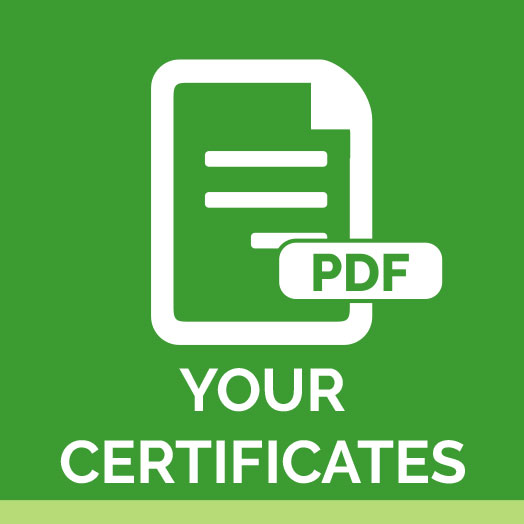 With the certificates we now send these out via email.
In the past A4 paper certificates were sent out in the post. However we found drivers were requesting a PDF electronic copy of the days they had trained. This was easier for them to then email to any prospective employers who needed to check their attendance on our courses.
Therefore we now email course attendees a PDF for each day they attend with us. This can take up to a month to send out however. So please bear in mind you will receive your Driver Qualification Card soon after attending the course, but the email containing your certificates will come out later.
It is your responsibilty to ensure the PDF's are stored in a safe place. We can not guarantee we will be able to email you replacements should you misplace them.
We switched to email certificates from Monday November 24th 2014
Due to numerous request from drivers attending our courses we are switching to email certificates from Monday November 24th 2014.
After the course has finished we will receive your certificates (via email) from R.T.I.T.B. within 10 working days after the uploads have been made (the Monday following the course for those attending all 5 days). Once we have all of your certificates we will email them out to you (in PDF format). We have switched to this due to demand. Many drivers have requested speedier delivery of their certficates using email as opposed to the more time consuming method of waiting for paper based certificates to come out in the post. As drivers are keen to show they are qualified as soon as possible we are aiming to upload hours next working day after each course with hours showing on the online training record 48 hours after this. You will of course have to still register as a new user on the DVSA website by visiting the below website link to view (and print out) your training record. Please note password to access this can take 10 days to arrive in the post.
https://www.gov.uk/check-your-driver-cpc-periodic-training-hours
* Scroll half way down the page and click on 'register as a new user' to create your account. Enter drivers licence and postcode
* You do however have to have at least 7 hours training complete before you can create your online account. This recent change was brought to light by a driver on our November 24th course receiving the email below from the Driver & Vehicle Standards Agency after he was experiencing difficulty creating an account online ahead of coming on that course:-
"Dear Driver,
As per our telephone conversation today, you cannot register on the online driver enquiry facility until you have completed 7 hours of periodic training.*
To check the number of Driver CPC Periodic Training hours you can use the Driver CPC online driver enquiry facility, once this has been regisitered
This can be accessed via the website gov.uk/check-your-driver-cpc-periodic-training-hours
If you are a new user, you need to register to use the online service.
You'll need to give your:
driving licence number
home postcode
Please note that you will not be able to register to use this facility until at least one training course has been recorded for you.
When you register, a password for the service will be sent by post to the address on your driving licence. So, it's important that you keep your address up to date.
Once you have registered to use the service and have a password, you can:
see how many hours of training you have done
see which courses you have attended
create a temporary password for your employer or potential employer to view your training record
You can use this online service 24 hours a day, Monday to Sunday.
If you have any problems when using this service, please contact DSA's customer service team on 0191 2048112. This line is open Monday to Friday 9.00am to 17.00pm.
If you have any further queries relating to this matter, please don't hesitate to contact us.
Yours sincerely
Customer Support
Driver and Vehicle Standards Agency | Eastgate House, Kings Manor Business Park, Newcastle upon Tyne, NE1 6PB
Your Driver Qualification Card itself (D.Q.C.) will still come direct to you from the Driving & Vehicle Standards Agency (D.V.S.A.). This can take up to 5-6 working days after you complete your 35 hours
If you experience any problems please contact them direct on their helpline number which is 0191 201 8112.